Genealogy: Revolutionary War Research
Many people doing genealogical research wonder if, or have been told that, their ancestors participated in the Revolutionary War, or the American War for Independence. Military action began with the confrontation between British troops and local militia at Lexington and Concord, Massachusetts, on 19 April 1775, and ended with the signing of the Treaty of Paris on 3 September 1783. This post will discuss a few ways for you to find out if one or more of your ancestors took part in the great event that started with "the shot heard 'round the world."
During the course of your research, you may discover a clue that your ancestor might have participated in the war. Depending on what information that clue provides, you can use it to search for additional information that may confirm your findings. Even if you don't find clues, there are other criteria you can use to determine whether you have a Revolutionary War soldier in your family tree. Following are just a few things to consider:
Birth Date – The age range of men who fought generally ran between the ages of 16 (with parental consent) and 60. They could have served in the Continental Army and/or State Line Troops and/or local militia at any point during the war, and sometimes more than once. Boys in their teens or even younger may have served as fifers or drummers. The average age of Continental Army soldiers at Valley Forge in 1777 was between 20 and 25. A general rule of thumb is that if your ancestor was born between 1715 and 1767, it may be worth checking to see if he served.
1840 Census – The 1840 census asked for names of Revolutionary War pensioners living in a household. Additionally, a separate census of pensioners was taken at the same time that identified the pensioner, his age, and the head of household with whom he was living. Caveat: It doesn't identify the veteran's relationship to the head of household, so the veteran may not be a direct ancestor; you'll need to do more research to see if he is. Google Books has the free e-book A Census of Pensioners for Revolutionary or Military Services, with their names, ages, and places of residence(1841)that you can search and download.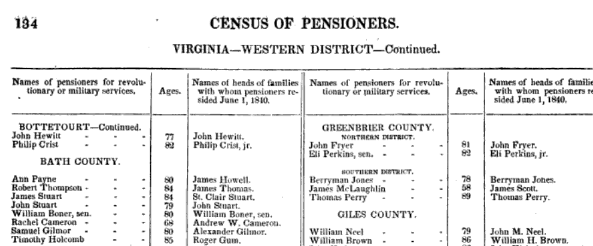 County Histories – Your ancestor may be listed as a military veteran in a county history, or his service may be mentioned in a family narrative in that publication. Check on the availability of a county history where the ancestor lived. Here's an example from The History of Gentry and Worth Counties, Missouri (1882):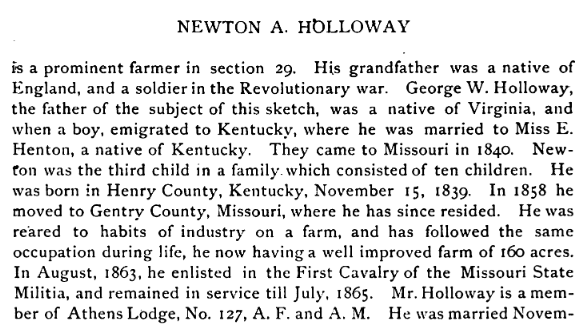 Newspapers – Early newspapers may mention the passing of Revolutionary War veterans in obituaries or contain articles mentioning local veterans' service. The web site "The Ancestor Hunt" contains many links to free and subscription newspaper sites nationwide: https://www.theancestorhunt.com/newspaper-research-links.html
If your ancestor was born within the general range of Revolutionary War service birthdates, there are two sets of military records that may help you establish service. One is Compiled Service Records of Soldiers Who Served in the American Army During the Revolutionary War. The other is Revolutionary War Pension and Bounty-Land Warrant Application Files.
Compiled service records consist of two groups of records for each military unit: unit records and the compiled military service records of men in that unit. These records consist of a jacket envelope, a number of abstract cards, and rarely, for officers, personal papers. FamilySearch has a database of abstracts of these records that gives the person's name, state from which he served, and name of the regiment: https://www.familysearch.org/search/collection/1849623, but to view digital images you must have a paid subscription to the Fold3.com database or visit a library that subscribes to Fold3. One man may have several entries, and a name may refer to more than one individual. A person may also have served in more than one military unit.
Because of the difficulties just mentioned, it may be better for you to look for a Revolutionary War pension or bounty land warrant in order to learn the person's military service, and then search for the appropriate service record. Many veterans or their survivors never applied for pensions; nevertheless, it's a good idea to check. FamilySearch has an on-line index to these documents: https://www.familysearch.org/search/collection/1417475, but you'll need access to Fold3.com in order to view digitized images of the files.
Many researchers want to document an ancestor's Revolutionary War service in order to join lineage societies such as the National Society, Daughters of the American Revolution (DAR) or National Society, Sons of the American Revolution (SAR). Each organization has its own membership requirements and procedures for application. If you're interested in learning how to join either of these groups, please visit https://dar.org or https://www.sar.org/ for more information.
Huzzah!