Link Old Maps and Land Records to Your Genealogy with HistoryGeo

Do you have ancestors who purchased land straight from the federal government? If so, our HistoryGeo database is a must-use! Brought to you by Arphax Publishing Co., HistoryGeo.com is a family history software service for linking old maps and land records to your genealogy research. It contains three collections – First Landowners Project, Antique Maps Collection, and Place-Finder + Topographical Maps. In this blog, we'll examine the First Landowners Project, but first, to get the most out of HistoryGeo, a brief explanation of federal/public land history is in order.
After the Revolutionary War, the new national government had no money but lots of land. To encourage orderly westward settlement and to raise revenue, Congress developed the Public Land Survey System (PLSS), or Rectangular Survey System (RSS), to precisely divide lands beyond the original thirteen colonies (as well as Tennessee, Kentucky, and Texas), and offer them for sale through federal land offices. The PLSS established baselines and principal meridians to establish horizontal (east/west) and vertical divisions (north/south), then further dividing lands into Townships containing six square miles. Each Township was subdivided into thirty-six Sections, each containing approximately 640 acres. Each Section was further subdivided into halves and quarters, repeatedly, until the parcel of land was accurately described. Halves of a Section (or subdivision of it) are represented as N, S, E, and W (such as "the north half of section five"). Quarters of a Section (or subdivision thereof) are represented as NW, SW, NE, and SE (such as "the northwest quarter of section five"). The PLSS thus allows researchers to precisely locate ancestral public lands. A fuller explanation of this system can be found on the Bureau of Land Management web site.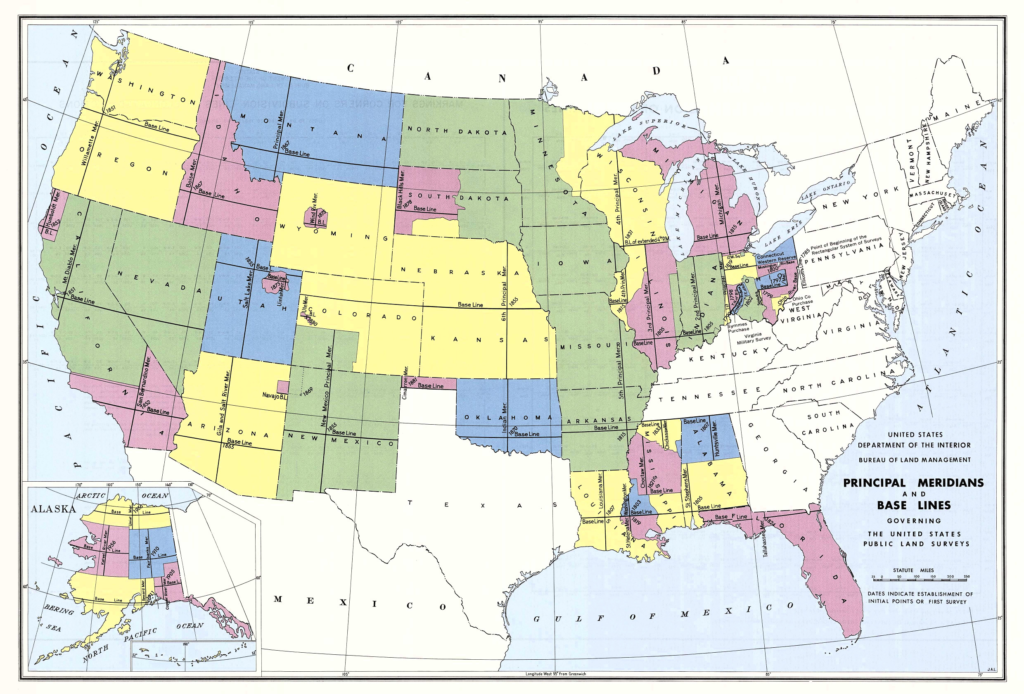 First Landowners Project
HistoryGeo's First Landowners Project displays original public landowners of the continental US according to state and federal records. You have access to a single, interactive map (below) containing over 12.3 million original landowners among thirty states (all twenty-nine of the public land states in the continental US, plus Texas). Besides expanded map coverage, you can keep track of all the early landowners you're researching.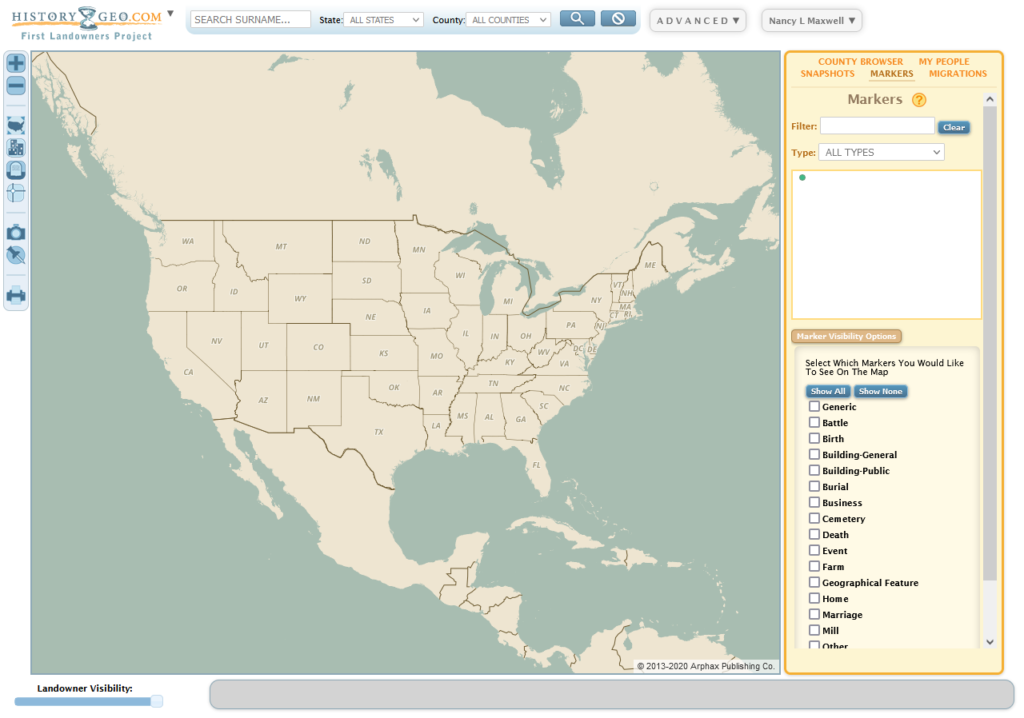 To search quickly find instances of a particular surname, use the Surname Search Toolbar along the top of the screen (circled in red). Searches can be performed for the entire continental US or by state and county/parish.
Below we see the search results for the PYEATT surname in Warrick Co., Indiana. A person icon means there's one original landowner with that surname in that location; a green circle with a number in it indicates two or more landowners with that surname.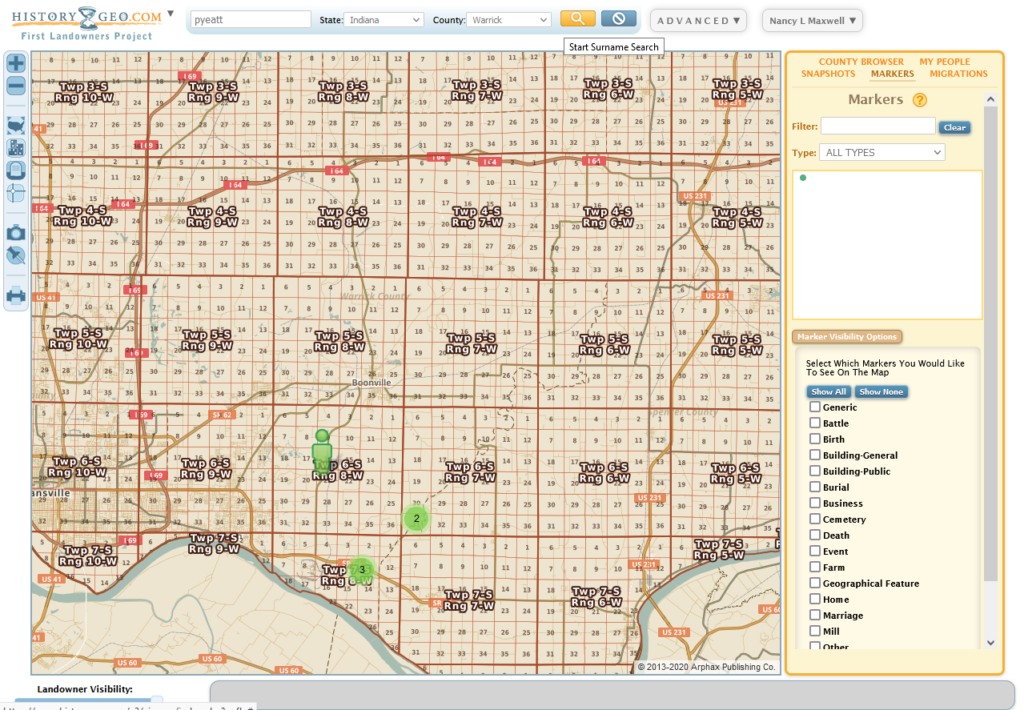 Zoom in by clicking the "+" sign in the upper left corner to see landowner parcels or surveys overlaid on top of our modern US map, along with the landowner's name, and date of the land patent. As you move in closer, you'll see the names that were inside the green circles, as well as the names of surrounding landowners: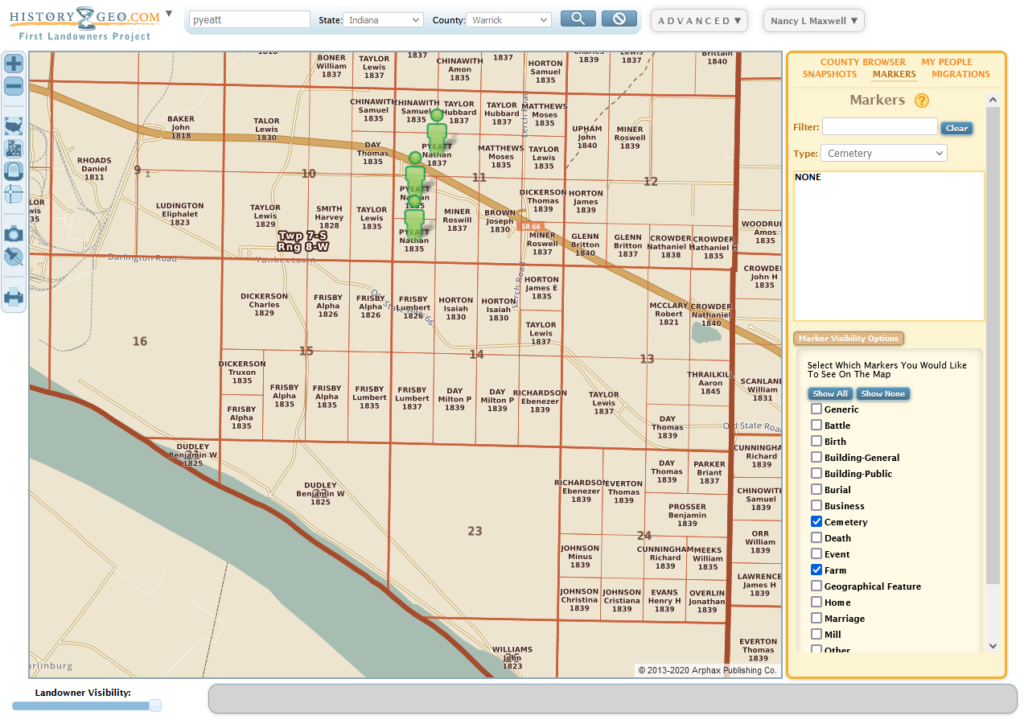 If you want a better look at the roads or geographic features beneath the landowner information, you can use the Landowner Visibility slider at the bottom left of the screen to fade the landowners in and out.
Even more information becomes available when you click on a person icon, as you can see in the following image. You'll see the patentee's name and patent date, name of township, legal description of land, under what public land law the land was authorized to be sold, and the latitude and longitude. You can also click on the links to view county boundary history, view the land in Google Maps, and view patent details and images at the Bureau of Land Management web site.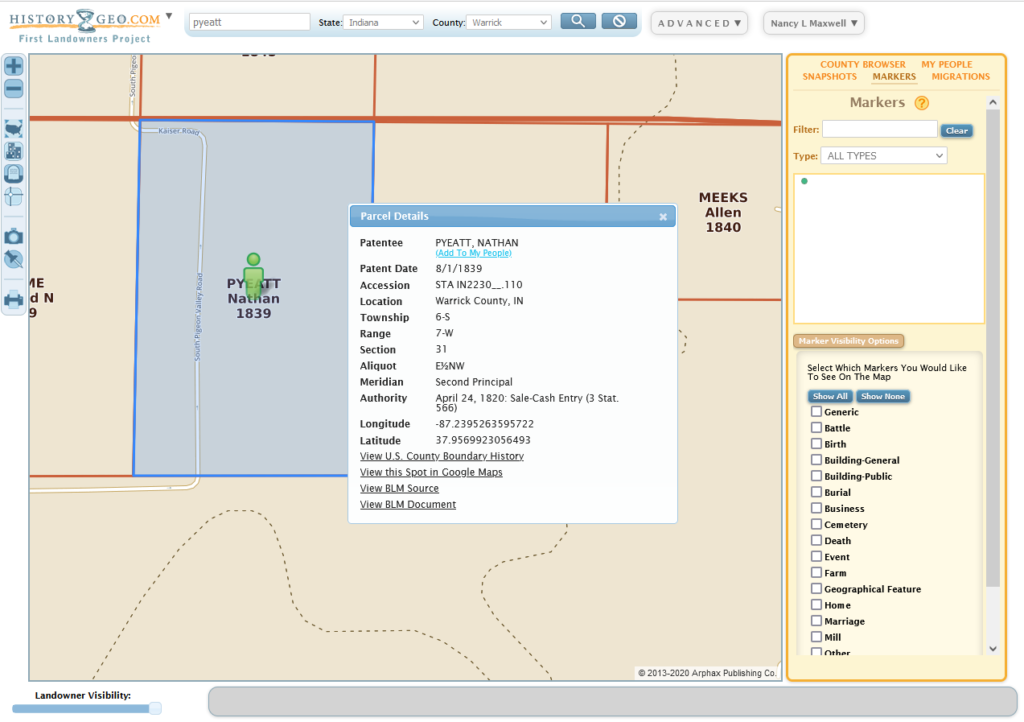 When you're done with this tool, you can clear the screen of your search results by clicking the "Clear Results" button, which is the circle at the very top with a diagonal line through it.
If you want to see where your chosen surname appears across the country, enter the surname only. Below we see blue circles in states where the PYEATT surname appears. The numbers in the circles indicate the number of counties in that state containing "PYEATT." As you zoom in, you'll see the kind of detail shown above.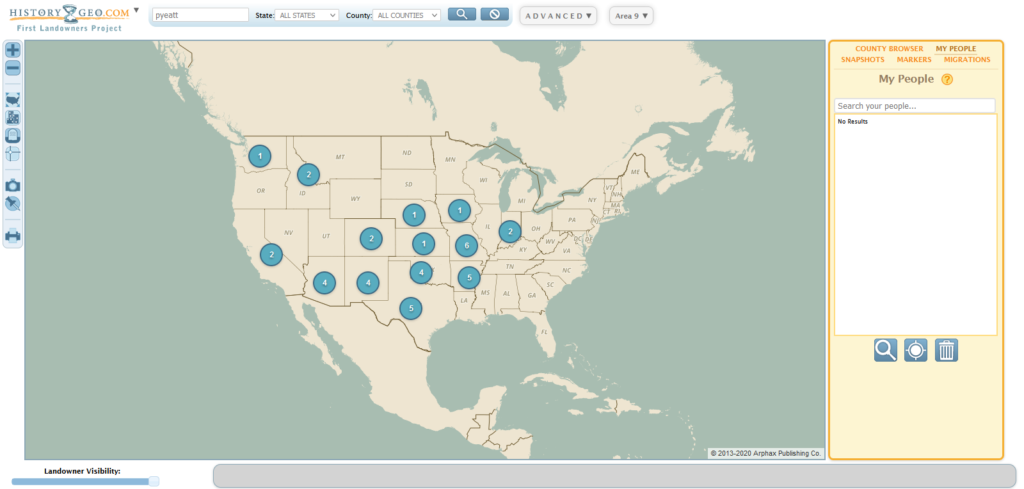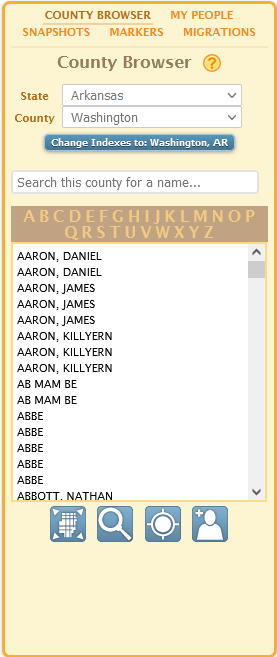 The sidebar provides a number of controls. "County Browser" (right) includes county-by-county landowner indexes and tools to help you figure out what county to find people in. Enter surname and select locations. Enter family name and change state and county to your place of interest. Filter results by your surname to get results. Select one or more names, then zoom in on map to see land parcels.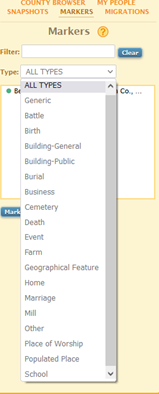 Click on "Markers" tool (left) (push pin icon), move to the place you want to mark, then double-click to open a window where you can name and annotate the marker. There's a variety of markers to choose from, but if you don't want a specific one, you can choose "Generic" from the list. You can also place markers that don't relate to the First Landowners map! Just place the marker where you want it and identify the marker.
"Snapshots" lets you save snapshots, like saving visual bookmarks. Here you can manage your markers and choose which ones to make visible.
Lastly, "Migrations" can be used to trace movement around the country by stringing your markers together. If you want to keep any markers and migrations you've created, you must save them someplace other than the desktop, or print them; anything saved to the desktop will be cleared at midnight. Try saving to a flash drive, or save it on the desktop and attach it to your e-mail.
There is much more to see and use in HistoryGeo. We hope you'll come in and let us show you how to make this database a part of your genealogical research.