There Were 102 Passengers on the Mayflower. Was Your Ancestor One of Them?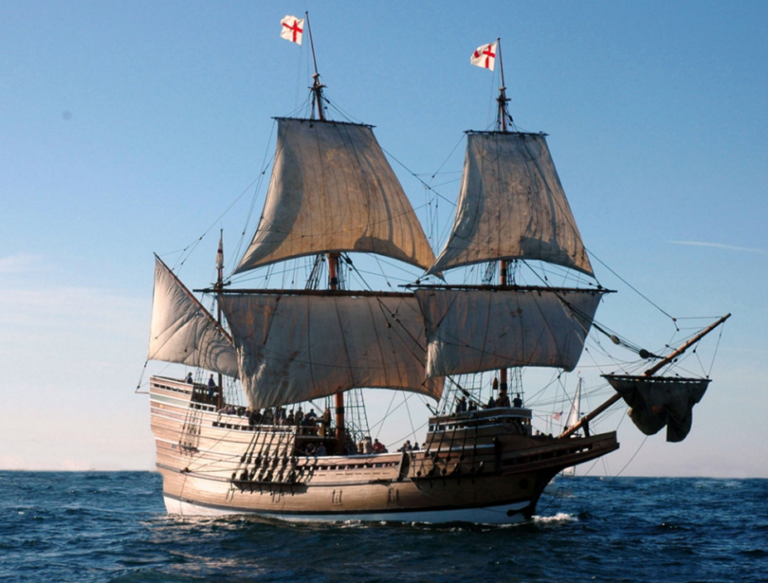 More than thirty million people can trace their ancestry to the 102 passengers and approximately thirty crew aboard the Mayflower when it landed in Plymouth Bay on 11 November 1620. Do you have a Mayflower passenger in your past? Have you heard family stories suggesting that you have one but nobody has done the research to try to prove it? The best way to find out is to begin researching yourself and work back, documenting the generations as you go. If you're so fortunate as to identify one or more of these pioneers as an ancestor, you may also wish to join The General Society of Mayflower Descendants, founded in 1897. You'll also gain a deeper understanding and appreciation of the lives of these Englishmen and women who forged a new life on a new continent.
The Pilgrims were a group of English people who came to America seeking religious freedom during the reign of King James I. They twice attempted to leave England for Holland, and finally one Separatist group settled in Amsterdam in 1608, led by William Brewster and their beloved minister, John Robinson. After one year, they relocated to Leiden, Holland and remained for ten years, since the Protestant Dutch were more lenient in matters of religion. However, they still faced challenges. They were concerned that their children would lose their English heritage and religious beliefs; they couldn't get decent jobs because they weren't Dutch citizens; and war with Spain was looming. A small group from the Leiden church made plans to settle in Northern Virginia – as New England was known at the time. About 20 July 1620 the group sailed from Leiden to Southampton, England, where other English colonists who hoped to make a new life in America met them. However, more than half of the group stayed and fully integrated into Dutch life, including the minister John Robinson.
They planned to make the crossing to America in two ships, the Speedwell and the Mayflower. After setting sail on 5 August 1620, the development of leaks in the Speedwell forced both vessels to return to England twice. After the second return, the Speedwell passengers transferred to the Mayflower and successfully set sail on 6 September 1620.
The group of 102 passengers who crowded aboard the Mayflower for the crossing was a mix of members of the Leiden congregation and some English families or individuals who were hoping to make better lives for themselves, or were seeking financial gain. These two general groups have sometimes been referred to as the Separatists or "Saints" and the "Strangers." They arrived as winter was settling in and endured significant hardships as they struggled to establish a successful colony at Plymouth.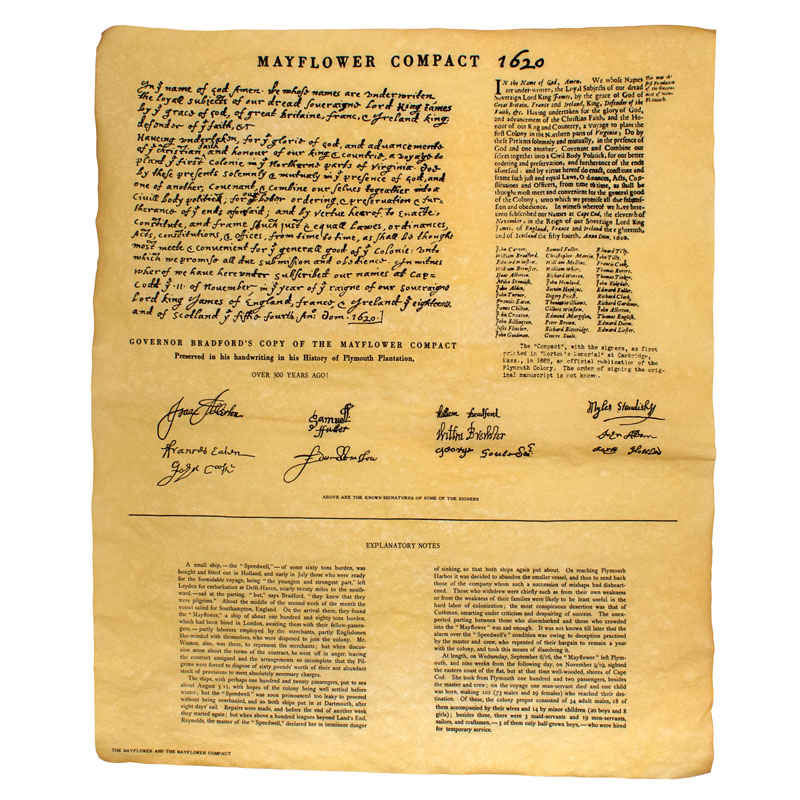 Anyone who arrived in Plymouth on the Mayflower and survived the initial hardships is considered a "Pilgrim" today, with no distinction being made on the basis of their original purposes for making the voyage.
The document now referred to as the Mayflower Compact was written and signed by most of the male passengers on the ship on 11 November 1620 as they landed at Cape Cod. In his history, Of Plimmoth Plantation, William Bradford recalled the event as "a combination made by them before they came ashore; being the first foundation of their government in this place." The original document has been lost, but a copy was published in 1622 in Mourt's Relation by Edward Winslow and in Of Plimmoth Plantation. In 1669 Nathaniel Morton published it and included the names of the signers. The Compact was read publicly at government meetings in Plymouth Colony several times a year.
To learn whether you descend from a Mayflower passenger, the best first steps are to explore your family's lineage as mentioned above. Build your family tree one generation at a time, being careful to confirm the link to parents as you go. Online databases such as subscription-based Ancestry.com and the free FamilySearch.org can be very helpful, but you have to be careful. Not every link to another generation has been carefully examined by previous family tree builders on these sites. You might also check out American Ancestors, a site from the New England Historic Genealogical Society. It contains some free resources, but to access the best of the collection, you'll need a paid membership. The minimum is $35 for three months' access. One entire section of the site is devoted specifically to Mayflower genealogies. Caleb Johnson's MayflowerHistory.com is a great free starting point, with links to multiple resources.
It's best to use online resources as clues, not proof. Many times, though, you will find that generous genealogists have posted important vital records of your ancestors including birth, marriage and death certificates. If you can confirm these are your ancestors, use those as building blocks in your path back to a potential Mayflower passenger.
Government records that document births, marriages, and deaths are vital in beginning your family genealogical journey. Many of these can be found online or can be ordered from the county or state in which the event occurred. For Mayflower Society purposes, these documents don't have to be certified copies.
The General Society of Mayflower Descendants is made up of fifty-four Member Societies representing all fifty states, the District of Columbia, Canada, Europe, and Australia. Check out the Texas Society web page here. The Society publishes a series of genealogical reference tools referred to as the "Silver Books" because of their distinctive silver-colored cover and binding. Grapevine Library has all available volumes in this series. Generally speaking, they detail the critical data for each generation from the Mayflower passenger, but down only five or six generations. When filling out a membership application, documentation beyond these generations may be required.
To become an approved member of The Mayflower Society, your first step is to contact one of the Member Societies and work with the historian of that Society on your application. Good luck!

Did You Know…?
Here are some well-known personalities who have documented Mayflower lineages:
Alec Baldwin – John Tilley, Joan (Hurst) Rogers, Elizabeth Tilley, John Howland
Humphrey Bogart – John Tilley, Joan (Hurst) Rogers, Elizabeth Tilley, John Howland
John Cena – Edward Winslow, Susannah Jackson, Richard Warren
Bing Crosby – William Brewster
Benedict Cumberbatch – William and Alice Mullins, Priscilla Mullins, John Alden
Matt Damon – Richard Warren
Geena Davis – Myles Standish
Ellen DeGeneres – William and Alice Mullins, Priscilla Mullins, John Alden, William and Mary Brewster
Amelia Earhart – Richard Warren, Samuel Fuller, Edward Fuller
Clint Eastwood – William Bradford
Zac Efron – William and Alice Mullins, Priscilla Mullins, John Alden, Thomas Rogers
Sally Field – William Bradford
Jane Fonda – William Bradford, James Chilton, Susanna Furner, Mary Chilton, Francis Cooke
Jodie Foster – William and Alice Mullins, Priscilla Mullins, John Alden
Richard Gere – Richard Warren, Francis Cooke, George Soule, Samuel Fuller, Francis and Sarah Eaton, Francis Billington, John and Ellinor Billington, Degory Priest, Stephen Hopkins, Elizabeth Fisher, Jacob Cooke, Francis Cooke, William and Mary Brewster
Katharine Hepburn – William Brewster
Ashley Judd – William Brewster
Christopher Lloyd – John Tilley, Joan (Hurst) Rogers, Elizabeth Tilley, John Howland, Richard Warren, James Chilton, Susanna Furner, Mary Chilton
Avril Lavigne – Stephen Hopkins, Giles Hopkins
Marilyn Monroe – William and Alice Mullins, Priscilla Mullins, John Alden, Francis Cooke
Sarah Palin – John Tilley, Joan (Hurst) Rogers, Elizabeth Tilley, John Howland, Richard Warren, Stephen Hopkins, Giles Hopkins, William and Mary Brewster, Henry Samson
Christopher Reeve – William Bradford
Cokie Roberts – William and Mary Brewster
Pete Seeger – Francis Cooke, Isaac Allerton, Mary Norris, Mary Allerton, Degory Priest
James Spader – Richard Warren
Kevin Spacey – William White
Meryl Streep – Henry Howland, brother of John Howland
Taylor Swift – Richard Warren, Stephen Hopkins, Constance Hopkins, John and Ellinor Billington, Francis Billington
Dick Van Dyke – Peter Browne, Francis Cooke, John Soule, George Soule, Myles Standish, John Alden
Sigourney Weaver – Kenelm Winslow, brother of Edward Winslow
Wil Wheaton – Francis Cooke
Laura Ingalls Wilder – Richard Warren