Origin and History of Lake Grapevine, 1919-1953, Part 2: From The Local To The National Stage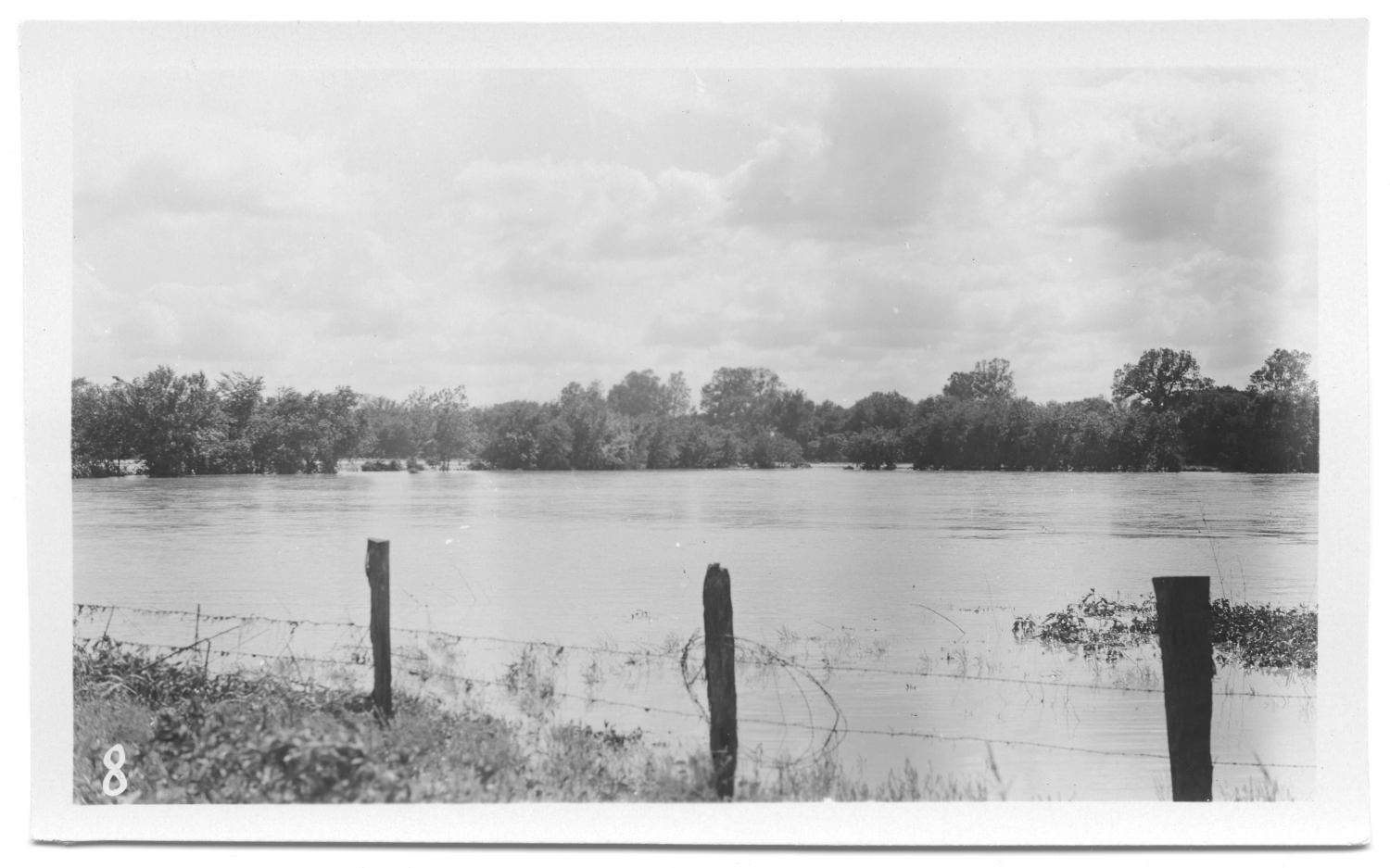 Flood control and soil erosion had been a subject of discussion at all levels of government for many years, but it was not until the 1930s that the federal government recognized that this objective was of national importance and that it should play a leading role in providing funding to the states so they could meet those ends. The Dust Bowl storms of 1934-1935, including some in March 1935 that blew dust into Washington, DC as the hearings for a soil conservation law were being held, helped to move Congress to act.
Prior to the development of the Trinity project, there was no federal or state project in the Trinity watershed pertaining to soil and water usage. Floods had devastated the region of the upper Trinity River several times during the previous thirty years. For example, when a severe flood ravaged the upper Trinity region on May 24, 1908, Grapevine experienced serious damage throughout the entire district when Denton Creek quickly overflowed its banks. The flood cut off mail service for over ten days, washed out crops, ruined thousands of acres of corn, destroyed alfalfa by covering it in sediment, drowned many animals, and washed away all the fences. The crops in the Denton Creek bottoms were entirely destroyed, and nearly all the farms, approximately 105, were badly washed. Railroad bridges were destroyed. Boats from Carrollton and Grapevine rescued stranded residents standing in high waters, and a fifteen-member Cotton Belt railroad repair crew was marooned on top of a water tank near Grapevine while waiting for rescue boats.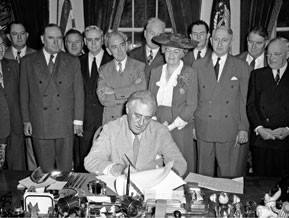 On April 25, 1935, Congress passed the Soil Conservation and Domestic Allotment Act (Public Law No. 46, 74th Congress, 1st Session), which authorized a complete study of soil in the Trinity watershed. In response to public demands for federal aid for flood-prone areas of the country and for work relief during the Great Depression, Congress passed, and President Roosevelt signed, the Flood Control Act, the first general flood control bill (H.R. 8455) in June 1936 (Fig. 1). Described as "An Act authorizing the construction of certain public works on rivers and harbors for flood control, and for other purposes (Public Law No. 738, 74th Congress, 2nd Session)," this was the first piece of legislation to provide for flood relief throughout the country and to recognize that flood control "is a proper activity of the Federal Government."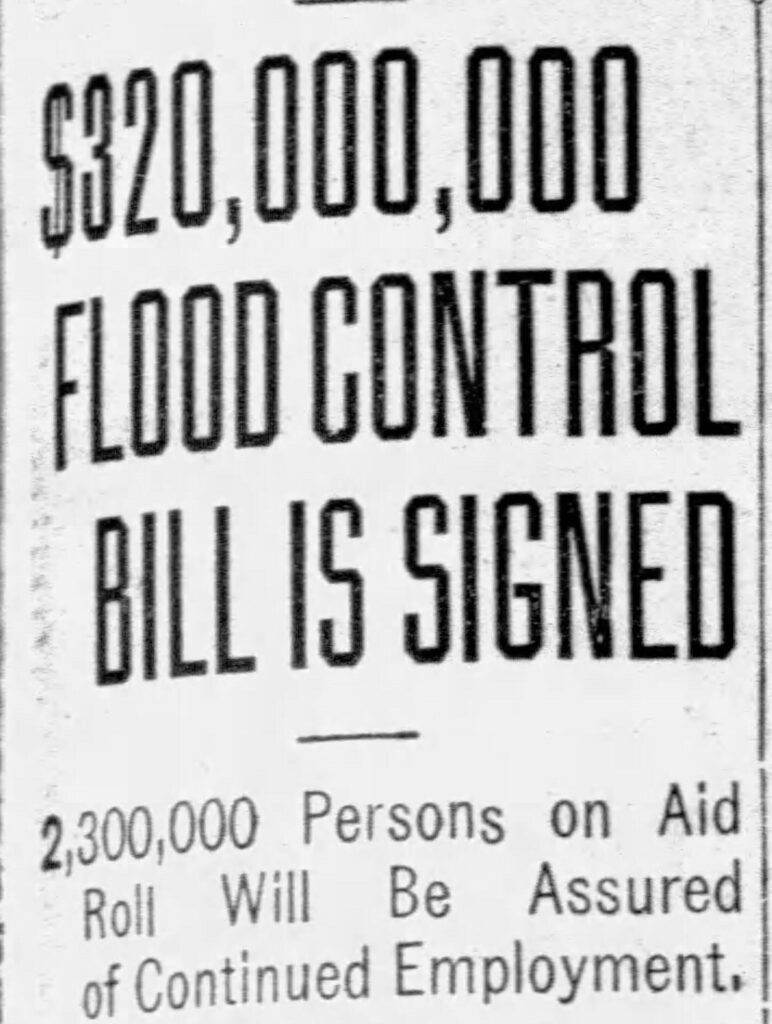 The 1936 Act and its 1937 and 1938 amendments established the conservation of soil and water resources as national policy and gave the US Army Corps of Engineers (ACE) responsibility for developing river basins. It also authorized the secretaries of war and agriculture to examine the Trinity River's flood control needs.
Following the passage of the 1936 Act, the Trinity Watershed Soil Conservation and Flood Control Association was created. In 1938 the Association merged with the Trinity River Canal Association (formed in 1930 by Amon G. Carter (Fig. 4) and John W. Carpenter (Fig. 5) to form the Trinity Improvement Association (TIA), with John M. Fouts (Fig. 6), former Dallas Commissioner for Water Works and Sewage, as its general manager. The 1936 Association pushed for passage of House Bill No. 328 in the Texas legislature, "An Act to declare the necessity of creating a governmental subdivision of the State to Be known as "Trinity Watershed Soil and Water Conservation District," . . . to engage in conserving soil and water resources." Authored by Texas House Representative Bailey B. Ragsdale (D-Houston, Fig. 2), the Act also provided for subdistricts throughout the state. Passage of the House bill would allow Texas to access federal appropriations then being made for soil conservation and flood control. The bill was introduced and passed on January 22, 1937 (Fig. 3).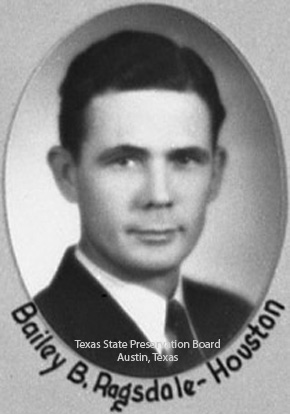 Preliminary reports emphasized the need for a comprehensive plan of development for flood control and allied purposes. On July 1, 1938, the ACE began flood control and navigation surveys of the Trinity River watershed, which were completed in October 1939 with federal funds totaling $400,000. A branch office of the Galveston headquarters of the ACE opened in Fort Worth on January 1939, and surveying by the branch office began under the authority of earlier versions of the River and Harbor Act (1916 and 1930) and the Flood Control Act (1924 and 1936), and as requested by resolution of the Committee on Commerce, US Senate, on December 10, 1929.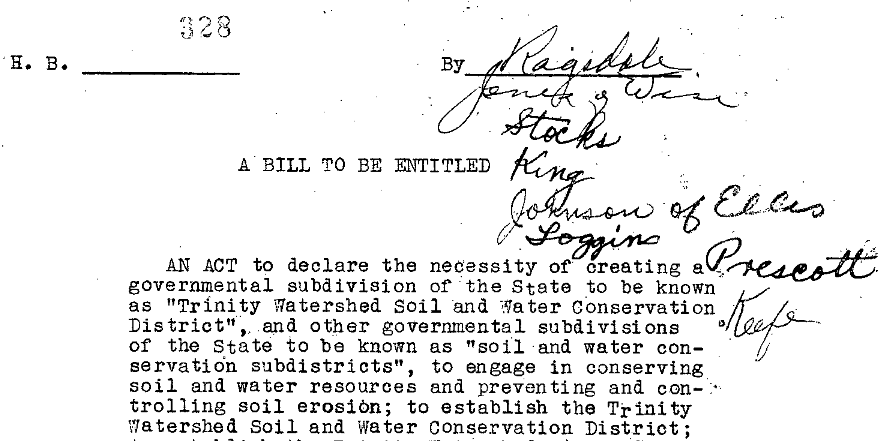 These surveys were part of the general study being made in connection with the proposed canalization of the river by the then-Trinity River Canal Association. Carter and Carpenter formed this group to push for a commercial canal to be constructed along the Trinity River to the Gulf Coast and later allied with Trinity Watershed Soil Conservation and Flood Control Association after encountering significant railroad and government opposition. Local interests also suggested the construction of reservoirs on the Trinity's major tributaries and of small dams for rural water supplies. Engineering experts were charged with surveying all urban property in the Dallas-Fort Worth area that would be subject to flood. The National Rivers and Harbors Congress had placed the Trinity project on its preferred list of projects that must be improved immediately. John M. Fouts reported to Amon G. Carter, TIA Executive Committee Chairman and publisher of the Fort Worth Star-Telegram, that all studies of the program were looking favorable and would go into the previously-mentioned 1939 report.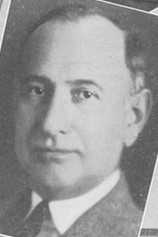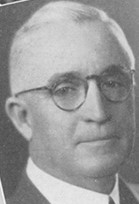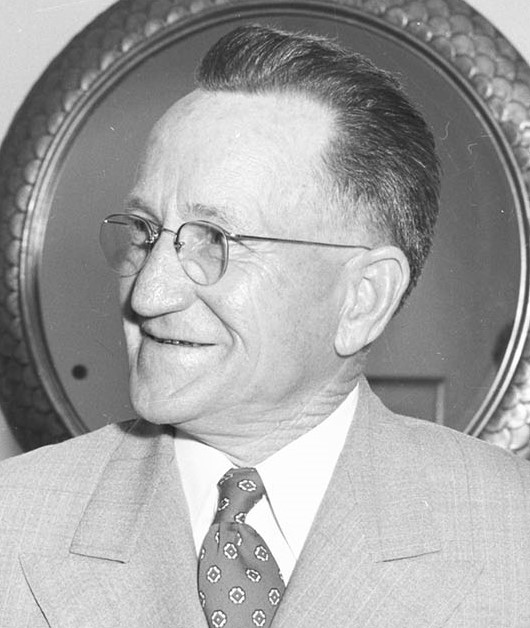 One of the sites to which they moved drilling rigs was Denton Creek. Denton Creek is one of the principal tributaries of the Elm Fork of the Trinity. It has a long narrow watershed of about 777 miles, rising in central Montague County at an elevation of about 1,100 feet, and flows in a generally southeasterly direction to its confluence with the main stream in northwestern Dallas County. The Denton Creek survey was completed by early July 1938 and was investigated from the Roanoke Reservoir site (an alternate to the Grapevine site) to its junction with the Elm Fork. Engineering office representatives inventoried all physical property subject to flood damages within that area. They collected data from property owners, state highway officials, county officials, municipalities, corporations, lawyers, engineers bankers, realtors, merchants, farmers, and local improvement associations. Additionally, the US Department of Agriculture appraised lands in the area, which was valuable in determining land values and estimating flood damages to agricultural property.
The proposed plan of improvement included the construction of five new dams and reservoirs, including the Grapevine Dam and Reservoir on Denton Creek. The aim was to provide 25,000 acre-feet of conservation storage in Grapevine Reservoir, which was intended to be used for stream regulation or recreation in case the proposed Trinity Canal was not built. Fifty thousand acre-feet of storage were intended for Highland Park and University Park (the Park Cities), and 75,000 for Dallas for flood control in exchange for an equal amount of storage to be provided in the Grapevine Reservoir. The total first cost of building this reservoir was $4,579,749. Local interests would pay a cash contribution of $607,000 toward construction costs to the Secretary of War. Because the Grapevine Reservoir was intended to provide water for Dallas and the Park Cities, and for lockage purposes if the proposed canal was built, the Grapevine Dam was to be built first. In the end, the canal never came to fruition, but during this time, it was still on the table.
By May 1939, most farmers realized that raising cotton was becoming less financially sustainable, and to become more profitable they needed to focus more on dairying, livestock, and poultry. Milus C. Counts, Tarrant County Agricultural Agent, observed that ninety-five percent of Tarrant County farms needed some kind of conservation practice and that financial aid via the federal government was helping farmers with balanced agriculture, building repair, and electrification in rural areas. On May 15, Mayor B. R. Wall (Fig. 7) of Grapevine was elected to the Tarrant County Soil Conservation Committee from Precinct 3 and served until October 1943. The Grapevine Sun noted that "Grapevine is fortunate in having one its prominent citizens in so important a position." William E. Moncrief (Fig. 8), chairman of the Tarrant County Agricultural Association, was elected conservation committee chairman. In September 1939, after a few redistricting changes, Dallas and Tarrant Counties were organized into a separate soil conservation and flood control district known as the Dalworth Soil Conservation District, which was approved in November 1939. Notices of Dalworth District activities and soil conservation recommendations soon appeared in the Grapevine Sun and were printed for many years.
In the next blog, we'll look at how the idea of the Grapevine Reservoir and Dam accelerated into reality in the 1940s, as Grapevine goes to Washington.