Resources for Hispanic Genealogy

In recognition of Hispanic Heritage Month, the Genealogy and Local History blog welcomes guest blogger Judy Everett Ramos, who will offer some great resources for beginning researching Hispanic genealogy. Judy started genealogy research in the sixth grade. She is a member of eleven lineage organizations, including National Society Daughters of the American Revolution, National Society Sons and Daughters of Antebellum Planters 1607-1861, and Descendants of Texas Rangers. She received the Mamie Wynne Cox Historical Research Award from the Daughters of the Republic of Texas for her article on early Texas history, as well as the national Spirit of 1812 award for her series of genealogy articles about the War of 1812. Judy is a Corpus Christi, Texas native, but she has traced her roots around the globe through several family lines. Her professional background includes newspaper, television, and radio reporting, and she currently works in public relations. When she is not working on genealogy, Judy loves traveling, cooking, photography, and birding. She especially loves it when her family does these things together.
Getting Started
If you are just beginning your Hispanic genealogy journey, it can be a little overwhelming. You can, and should, use traditional resources like Ancestry.com, FamilySearch, Fold3, Find A Grave, and others, especially if your ancestors have been in the United States for several generations.
There are other tools available that may be less well known that can help break down brick walls and reveal a new world of ancestors for you. This blog post will list several resources, both free and by subscription, that complement more commonly-used genealogy tools. Many of these websites have links to their own resources, so they serve as jumping off points to even more websites, books, published research, and more.
Daughters of the American Revolution
If your ancestors were in what was called Nueva Espana (New Spain) from 1779–1783 and you can prove it, you may have a Spanish patriot who provided aid and support during the American Revolution. Patriots from present-day South Texas may have donated pesos to the cause (donativos) or they could have provided Texas longhorn cattle to help feed the soldiers of the famed General Bernardo de Galvez (for whom Galveston is named). Some ancestors may have even served under Galvez and fought in battle. You will need records to prove service or aid, and that may be a challenge. Not all records have been located yet, especially those from Texas. This means you may find ancestors who lived in South Texas at the right time, who owned land, and who could have had financial means to donate, but you will need to locate a receipt or some other record of the donation or service to tie it all together. This public DAR website includes its own lists of resources about Spanish patriots.
https://www.dar.org/national-society/genealogy/minority-research#spanish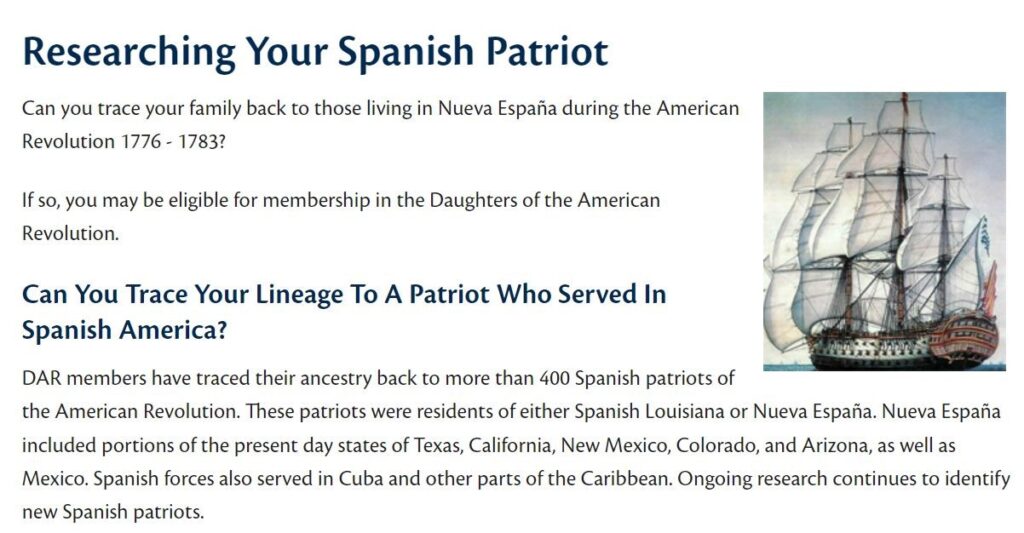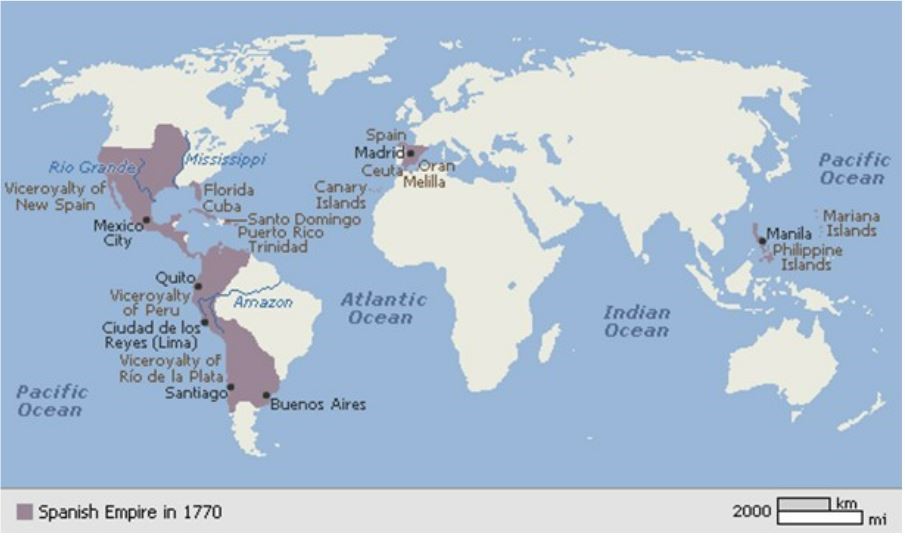 Borderlands Bookstore
This is an online bookstore specializing in Hispanic genealogy and history. There are volumes of church records, family histories, biographies on historic figures, and other book formats from which to choose. Categories include Hispanic genealogy, the Spanish Colonial period, Texana and the American borderlands, and many more. Some books are in written in English and some are written in Spanish, and you can read summaries of the books before you make a purchase.

Moises Garza Website
Moises Garza is a genealogy speaker, author, and blogger who lives in the Rio Grande Valley. He operates several websites, including Mexican Genealogy, We Are Cousins, and Las Villas del Norte. This website includes a list of his books and presentations, and you can jump to his other websites from here.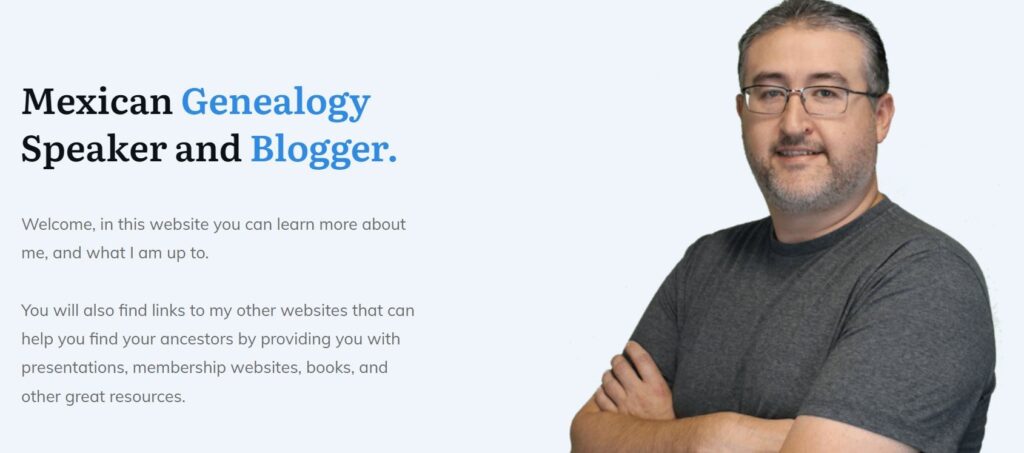 We Are Cousins
Moises Garza has amassed a collection of genealogical records, books, presentations, and conferences to help people find their ancestors. "We Are Cousins" specializes in genealogy from Northeastern Mexico and South Texas. This free website is a must for your personal research if your ancestors are from these geographic areas. There are books about specific surnames, states and regions in Mexico, books with genealogy research tips, books of census and church records, and much more. Moises Garza posts many of his ancestors' records, and because most of us who hail from South Texas are related (we are cousins, after all), there is a good chance you are related to Moises, too. Type your ancestor's name in the search box and you might get lucky and find that baptism record you needed. You can register for the annual We Are Cousins genealogy conference, join a DNA project, read blog posts, and much more. This is a robust site with valuable information and resources.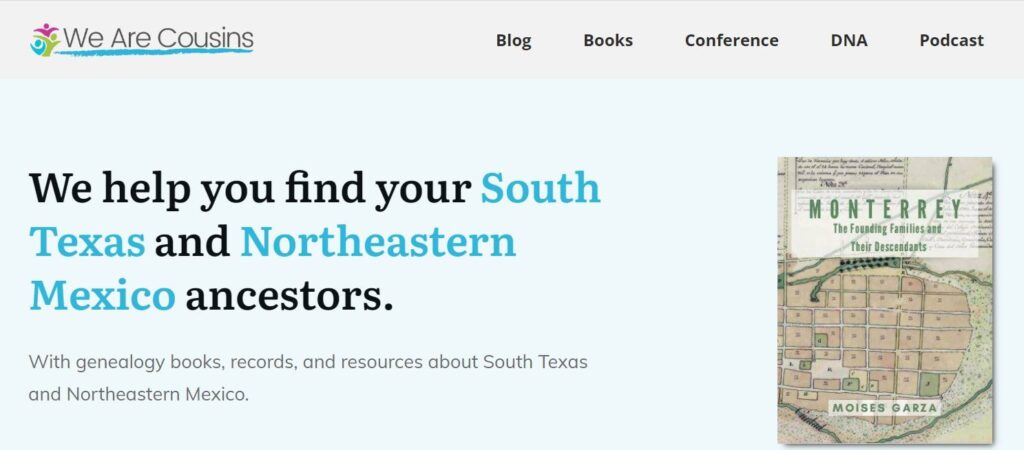 Mexican Genealogy
This Moises Garza website provides access to blogs, books (written by Moises and by other authors), podcasts, and online communities of like-minded genealogists. Blog post titles include, "Descendants of Conquistadors and First Spanish Setters of New Spain," which includes links to download other books. You can also follow Mexican Genealogy on Facebook.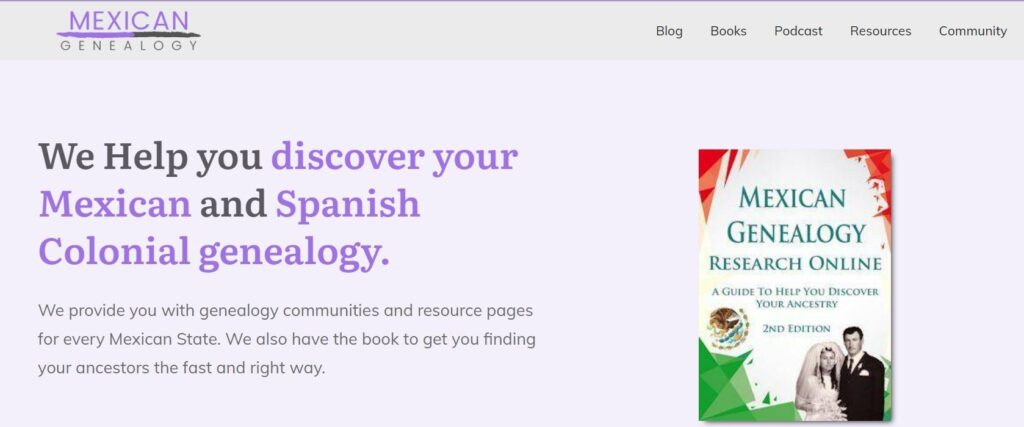 Las Villas del Norte
Las Villas del Norte is an online genealogy group that provides online presentations, how-to videos, e-books, journals, a community family tree, and more. This is a group for members only, so you must pay your membership fee to join and access the resources. You can also follow this group on Facebook.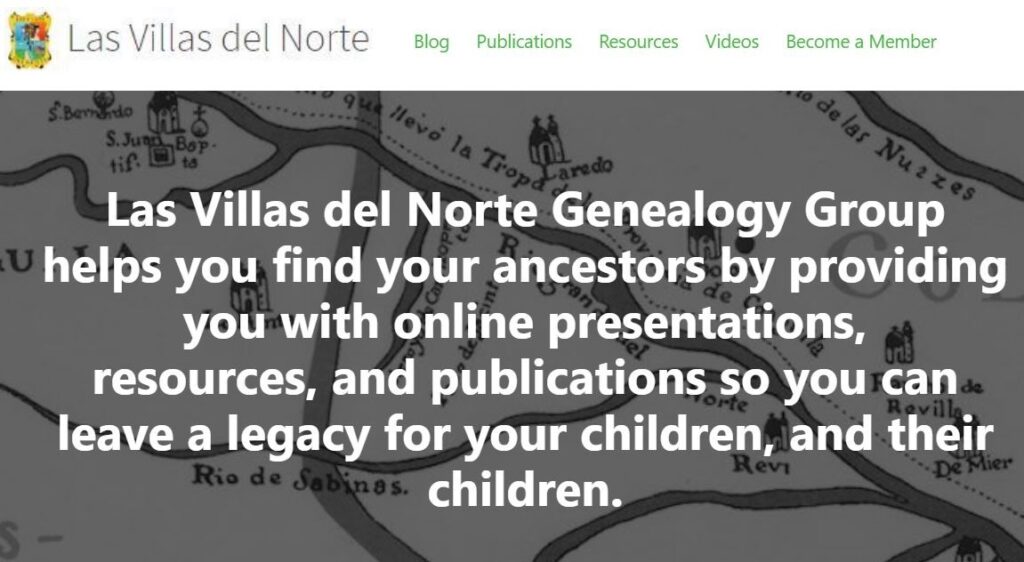 Somos Primos
Somos Primos is Spanish for "We are cousins," and this website is dedicated to providing access to resources about our Hispanic heritage. Somos Primos includes links to archived newsletters, family letters, essays, links to other websites, and published genealogies from researchers. Somos Primos published genealogy newsletters from 2000-2019, and those newsletters are available on this site.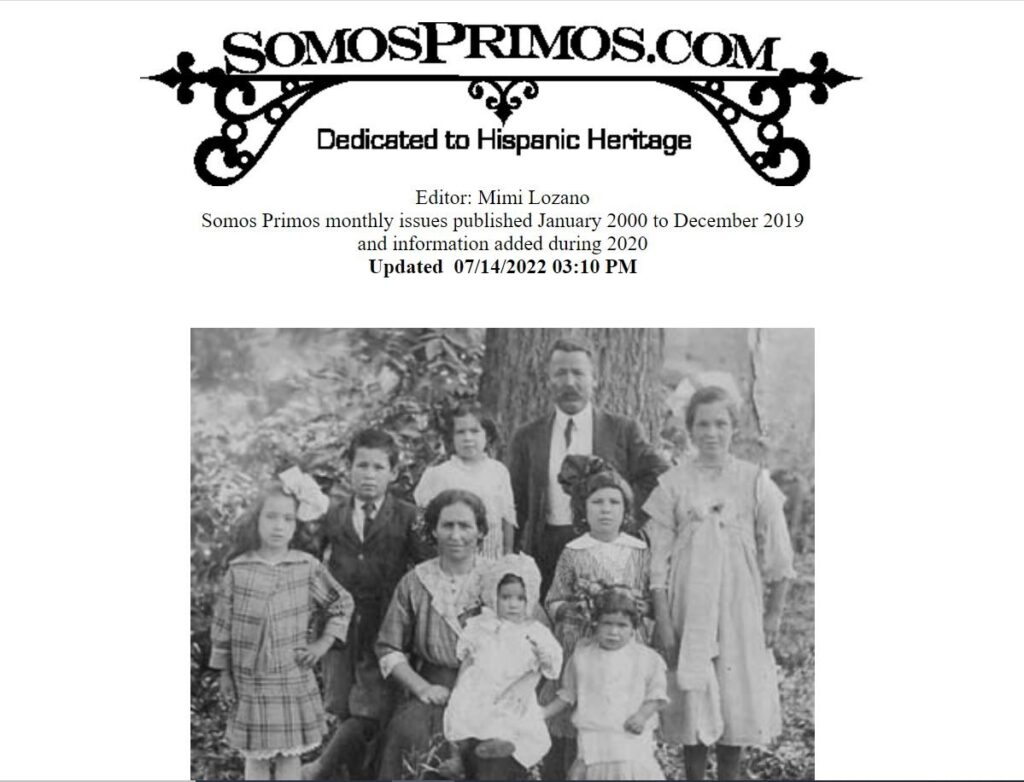 Research of Granville Hough and H. C. Hough
Granville W. Hough and his daughter, H. C. Hough, published eight volumes of work about Spanish Patriots in the American Revolution. These volumes, as well as essays and links to more websites, are featured in a special Hough section of the Somos Primos website. The Grapevine Public Library also has a hard copy of the eight volumes of the Hough research. The volumes cover Arizona, New Mexico, Texas, Louisiana, West Indies, Northwestern New Spain, and two volumes about California.
https://www.somosprimos.com/hough/hough.htm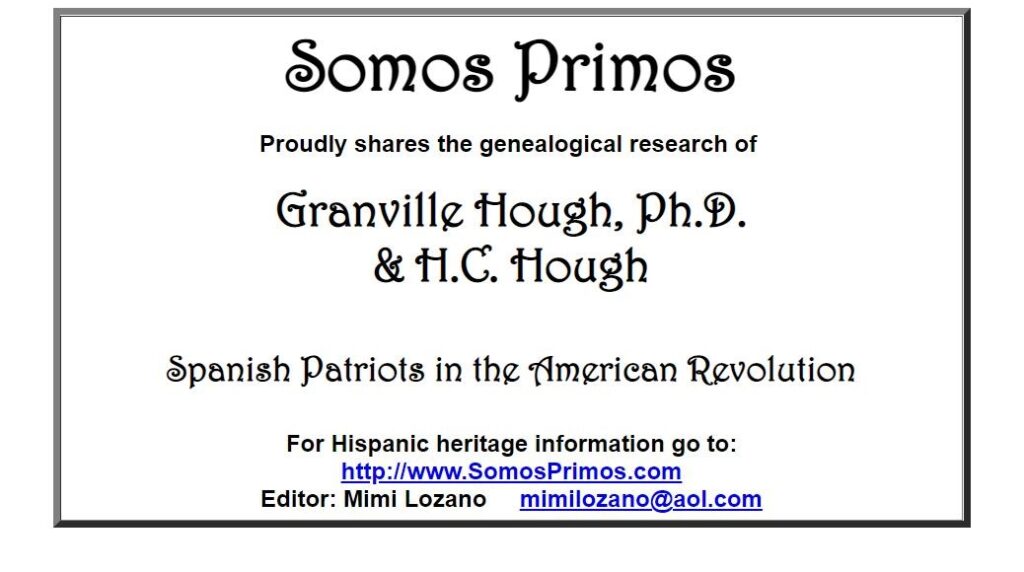 HOGAR de Dallas (Hispanic Organization for Genealogy and Research)
You can join HOGAR (hogar means "home" in Spanish), which provides access to the group's journal, special workshops, meetings, and more. You can also visit their public website to find resources. There are digital volumes of genealogies about families from specific states in Mexico, links to digital books, as well as documents on various topics, such as deciphering Spanish terms or understanding Catholic dispensations.
https://www.hogardedallas.org/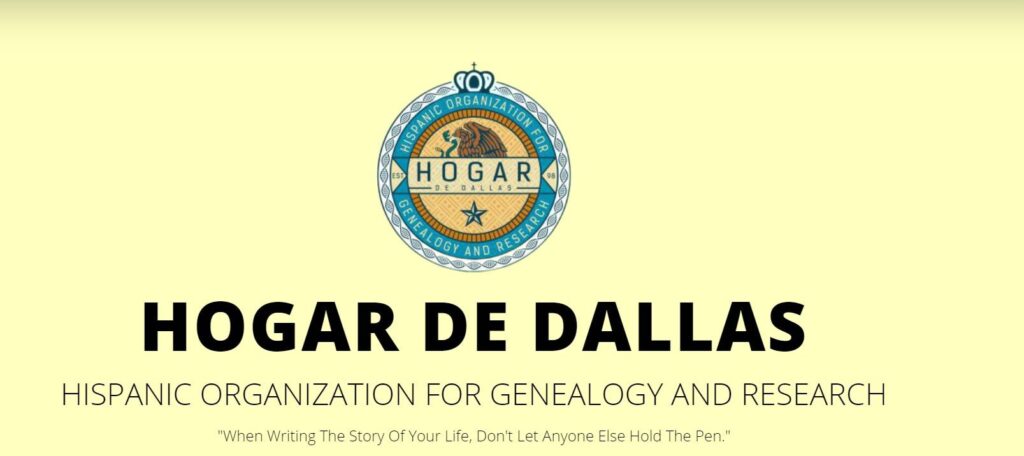 This is just a sampling of the many non-traditional resources to help you on your Hispanic family history journey. Each of these websites provides an entry point that leads to more research tools and more opportunities to learn about your ancestors. ¡Buena suerte!