The Great Grapevine Road Fight, Part IV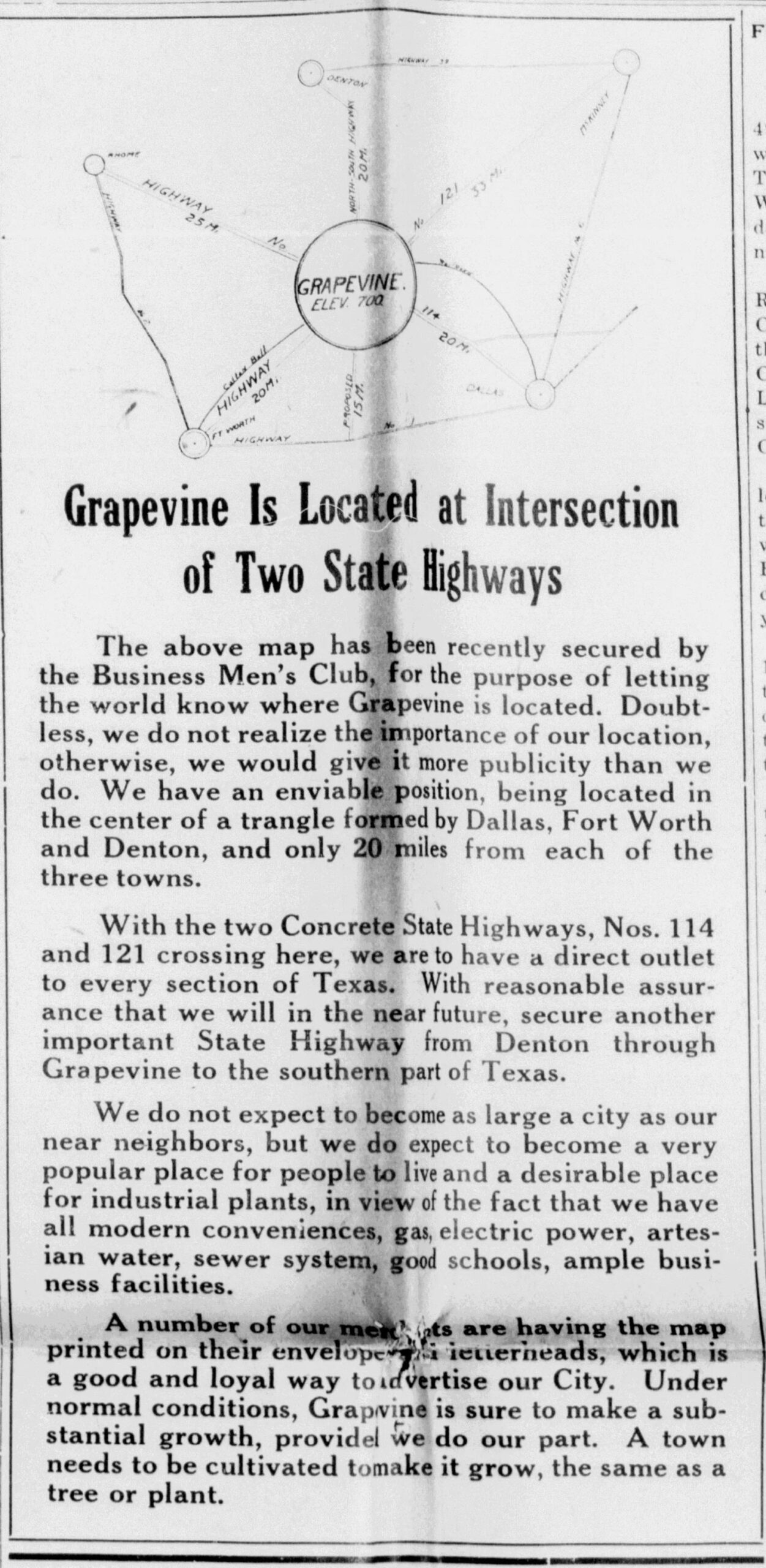 On March 13, 1929 Commissioner Sandy Wall announced that the right-of-way for the new Fort Worth-Grapevine Road, known officially as State Highway No. 121, would increase from eighty to 100 feet wide. The eighty-feet increase was already in place so the additional twenty feet would be sought in order to meet the State Highway Commission's requirement. The first authorized offer for the first strip of land near Pleasant Glade was made by County Engineer Damon A. Davis to Carl Yates at the end of March. Commissioner Wall stated that no more than this one parcel of land would be condemned; all other right-of-way would be obtained through negotiation with land owners. The road grading and building process from the A. J. Anderson corner to Grapevine was almost finished around this time, and in due course would be ready for paving. When completed, about two miles would be cut from the twenty-one-mile distance between Fort Worth and Grapevine. Surveys began a few days later on the second section of the road.
Resident Engineer M C. Welborn of the State Highway Department approved the general route of the new highway by the end of March, so surveys and plans preliminary to awarding the road contract would soon start. Specifications would be prepared by the county engineer and submitted by Welborn to the State Highway Commission, which would award the contract.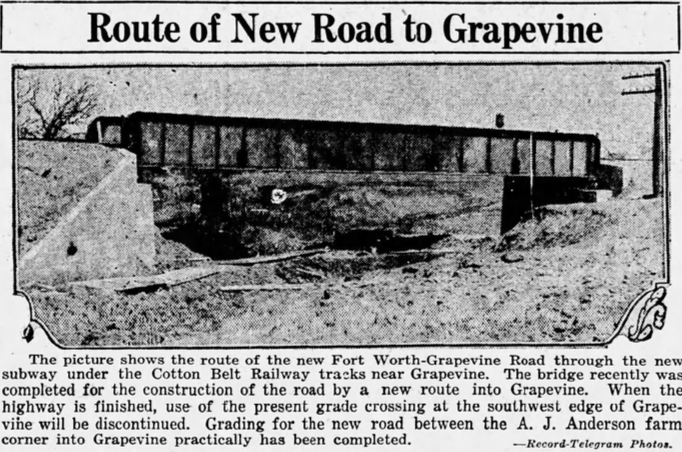 By April 1, only three of twenty-four deeds from land owners for the widening of the new road still needed to be filed with the county clerk. On the same day, the County Commissioners' Court passed a resolution authorizing the filing of condemnation proceedings against Carl Yates of Grapevine for additional land needed for the right-of-way. One week later, location surveys on the Grapevine Road had been completed from Riverside to Anderson's Corner, thus completing preliminary road surveys in Tarrant County. Vehicles could travel the road from Anderson's to Grapevine, as well as use the subway under the Cotton Belt Railway in Grapevine, only during dry weather. The roadbed needed to settle a while before pavement could be laid. B. R. Wall spent the morning of May 7 (his 53rd birthday) getting some signatures to right-of-way deeds.
By mid-June bids were being accepted for contractors for state road and bridge construction of State Highway No. 121 extending from Anderson's Corner to Grapevine. General Construction Company of Fort Worth was the successful bidder. Actual construction, including asphalt paving, was to be completed within 100 working days. Work had to start by July 21, 1929. Pouring of concrete began the week of August 18. The new surface would be twenty feet wide.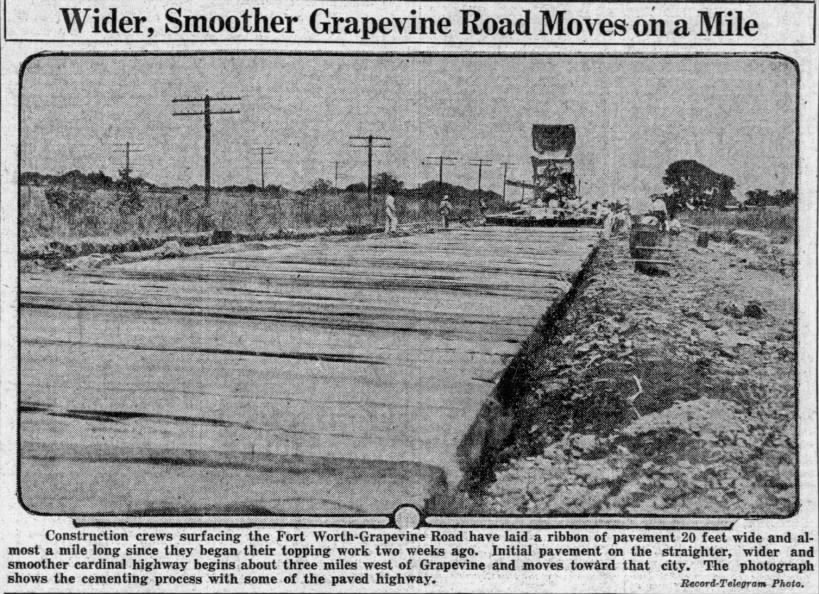 Another contract to be awarded was for concrete paving of 8.87 miles on State Highway No. 121 from the county line northeast of Grapevine, continuing through Grapevine 8.87 miles toward Fort Worth.
By the last week in August, ten right-of-way deeds had been filed with the county clerk for recording, seven of them were on the Fort Worth-Grapevine Road. During this time, however, condemnation proceedings were holding up work. Tarrant County filed a condemnation suit against Grapevine farm owner Carl Yates, seeking two ten-foot strips as right-of-way. The county had already obtained eighty feet of Yates's land by condemnation, and he was awarded $600 in compensation. Yates believed this was insufficient and appealed to the District Court for a larger settlement.
At the beginning of September, Commissioner Wall announced that East Belknap Street, which had been considered in the 1928 bond issue to be the logical route for State Highway No. 121 to Grapevine and McKinney, had been designated as such a route. Wall explained that it was "the most feasible connection and distribution of traffic into the business section of the [Trinity] river as well as north . . ." It would intersect the new road at Frey Avenue, thus shortening the distance and eliminating several curves (Figure 3).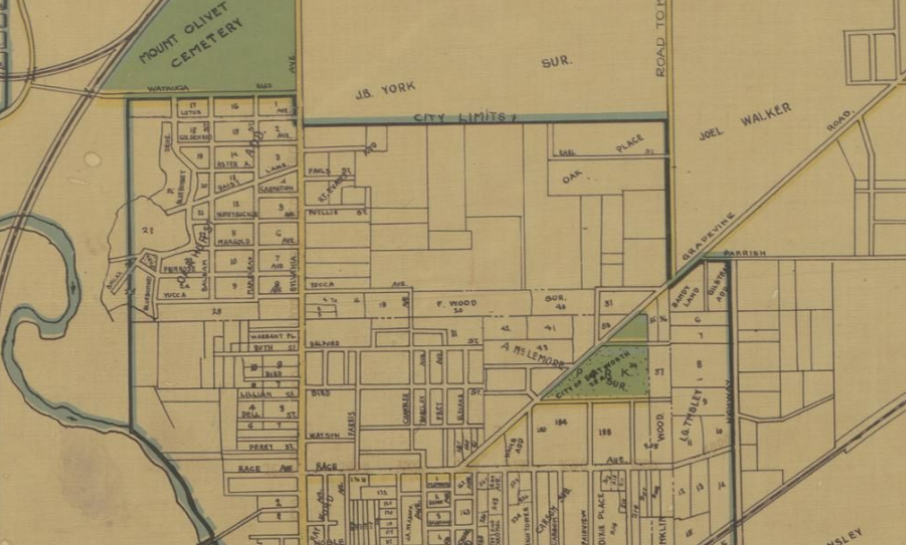 A month later, 2.5 miles' worth of construction was complete between Fort Worth and Grapevine. The section paved with concrete was also completed from Grapevine toward Fort Worth; concrete was being poured at the rate of one mile per week. According to resident engineer Welborn, the new road would be twenty feet wide with a forty-foot grade, and would be ready for travel by December 1. Pavement would extend six more miles to Anderson's corner, but highway plans for the road between Anderson's and Fort Worth had not been completed.
Tarrant County's first paving project in the $4.9 million highway improvement program – the nine-mile stretch of paving beginning at Grapevine and extending to Anderson's farm towards Fort Worth – was complete by November 23. Though it was open to the public the first week in December 1929, engineers kept the pavement closed to traffic for three weeks.
Construction of the Grapevine cardinal road was the most expensive project undertaken in Tarrant County's $4.9 million highway program. The county engineer estimated that $1,528,847.25 would be spent by the time it was completed.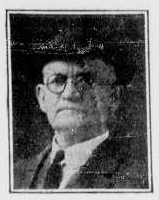 By January 1930 Sandy Wall was considering retirement (Figure 4). He had been serving his third consecutive term as Tarrant County Commissioner of Precinct 3 and was able to see two of his dreams come true – the Grapevine Road and the new north route to Dallas. So when Tarrant County commissioners approved Belknap Street as the entryway for State Highways Nos. 121 and 10 into Fort Worth because it would be the shorter route, he probably felt that his efforts to improve Tarrant County's road system had paid off significantly. Until that time, those highways entered Fort Worth by Fourth Street.
In light of two highways crossing Grapevine – 121 and 114 – the Grapevine Business Men's Club placed a notice in the February 13 Grapevine Sun that it was high time for the city to "[let] the world know where Grapevine is located" . . . "We have an enviable position . . . in the center of a tr[i]angle formed by Dallas, Fort Worth[,] and Denton, and only 20 miles from each of the three towns" (see featured image at top)." In late March the club took up plans to provide for traffic through Grapevine on Highway No. 121 that included widening streets, providing a parking place, and building a tourist camp. County commissioners and Grapevine officials agreed that in having Highway 121 cross Main Street that parking space would be arranged for cars regularly parking on Main. A drive was also begun to give Grapevine a milk and cream depot, an ice factory, and a laundry.
Nineteen-thirty was another busy year for roadbuilding. By mid-May 1930 the road between Anderson's farm and Grapevine had been completed and paved with concrete. In late June construction began on the Bear Creek Bridge on Highway 121, four miles south of Grapevine. On September 29 work was started on the grading of the fifty-two-foot Belknap Street extension into Riverside. A bridge on Belknap over the Trinity River would follow. When completed, Belknap would extend to the intersection of Frey and Race Streets, where the Grapevine Road began, giving travelers from the northeast a direct road into Fort Worth's business district. In October Tarrant County officials urged awarding of a construction contract for grading and drainage on the Grapevine Road from Grapevine to the Birdville cutoff; from the cutoff to Anderson's Corner, and paving from Grapevine to the intersection of Highways Nos. 121 and 114. In mid-November 1930 Vilbig Brothers began paving a 500-foot section of Highway No. 121 from the north end of Grapevine's Main Street to connect with Highway No. 114; B. R. Wall observed this work and noted it in his diary.
Carl Yates's August 1929 appeal to the District Court for increased compensation for property condemnation resulted in an award in April 1930 and the case was closed. However, this would not be the last time Tarrant County would hear from the long-time Grapevine farmer. Yates took up another appeal in September 1930, this time in County Court at Law No. 2. He asked for $5,000 for damages and for an underpass to connect his property, claiming that the new road divided his land. The initial appraisal board had granted $150 an acre for a right-of-way and no damages. On September 29, the jury awarded Yates $125 an acre for 3½ acres and $2,000 damages, but he refused to accept it and would soon take matters into his own hands.
The recently-completed East Fourth Street Underpass finally allowed Riverside safe access to the Fort Worth business district without the several dangerous grade crossings between the two. Grapevine's position as the principal entry into Fort Worth from the northeast led to an invitation in September from the Civic League of Riverside to join Riverside in a big celebration of the opening of the underpass. The Riverside League met with the Grapevine League on September 10 at the Grapevine Odd Fellows Hall. Because Grapevine's location was considered so economically valuable to all who came to Fort Worth from that direction, some sort of festival commemorating this event was considered worthy – so much so that Grapevine wanted all of its schoolchildren to participate.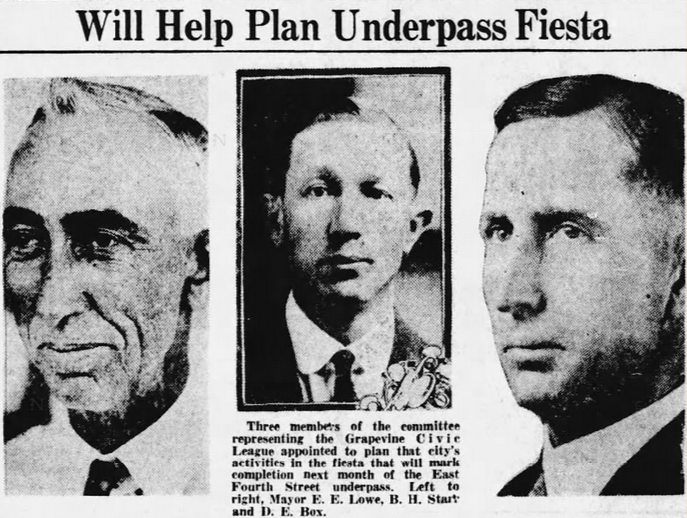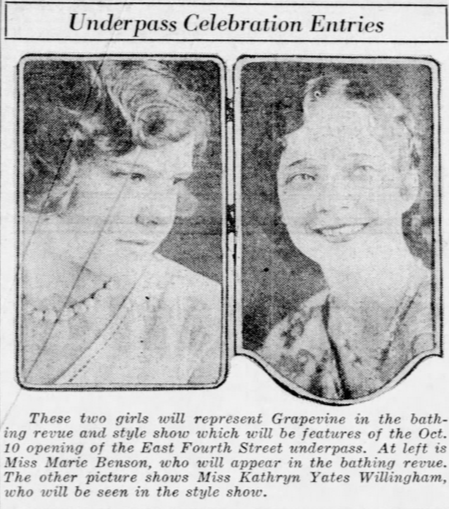 A mass meeting was held on September 15 and Grapevine citizens responded enthusiastically. Grapevine banker David Box, member of the committee of the Grapevine Business Men's Association in charge of the plans, opined that Grapevine would play a large part, not even second to Riverside. The greater part of Grapevine citizens planned to go in a body to the October 10 event, which would begin with a parade starting at the Fort Worth Recreation Building. Four Grapevine floats would be in it. One would be the official city float carrying the city's two entries in the bathing and style revues: Marie Benson in the former and Kathryn Yates Willingham in the latter, both chosen by fellow Grapevine High School classmates (Figure 6). (Miss Willingham took second place.) Another float would represent the Business Men's Association. The high school and grammar school would each have their own floats. Other entrants could participate as well, carrying blue and white Grapevine banners. Two Grapevine fiddle bands, the Coon Hunters Strings and the Rabbit Twisters, would compete in a fiddle band contest. The general planning committee consisted of Mayor Ernest Lowe, David Box, Barton Starr (Figure 5), and J. A. Spinks. W. M. Campbell, superintendent of the Grapevine schools and Association president, also took part. The city of McKinney was also invited to participate in the festivities. All told, more than 1,000 persons, eleven bands, eighteen floats, 112 cars made up the parade, which extended twenty blocks.
On Thursday morning November 6, 1930 Carl Yates, whose family had lived in Grapevine for over seventy years, demonstrated his dissatisfaction with the "injustice of the Commissioners' Court" by putting up fences across the paved part of the Grapevine Road on each end of his property – 3,000 yards apart – just southeast of Grapevine, and then guarding the barrier with a shotgun. The timber fence was built across the road with wire extending beyond the right-of-way, and men and detour signs directed drivers around the property. Yates removed the barriers at night since he did not possess warning lights.
Yates had no problem explaining his motivations and nobody could persuade him to give in. He explained to the three highway officers called to the scene that he'd owned that land for four years, and for the last two and a half years his pasture had been cut off from his house, forcing him to hire two men to drive several head of cattle and 165 head of sheep to water. He estimated that current damage amounted to $5,000 and that the court did not see fit to rectify the situation, thus making the blockade and the 12-gauge shotgun his only "means of appeal." The only way Yates would accept the court's $2,000 award was if the county built an underpass for his cattle, but the county engineer estimated such a job would cost $4,500.
News of Yates's protest spread quickly across Texas. Newspapers in Abilene, Amarillo, Austin, Beaumont, Corpus Christi, Corsicana, Dallas, Del Rio, Fort Worth, Galveston, Harlingen, Houston, Lampasas, Pampa, Paris, San Antonio, Sweetwater, Tyler, Vernon, Waxahachie, and Wichita Falls picked up the news via wire reports. Yates was charged with a misdemeanor – obstructing a public highway – and allowed to make a $500 bond at home with his brother Earl Yates and W. D. Deacon. He agreed to meet with Tarrant County District Attorney Walter Morris and County Judge Shannon but declared that he "would put up the fence again unless they pay me."
Because the Grapevine Road was a state highway, the state highway engineer and state attorney general stood ready to deal with him if he resumed his stance. Patrolmen would be called in to open the road and an injunction would be issued to keep any person from blockading the highway. Yates was unmoved. He asserted that no court action could changed his case and that his right was higher than the law. He therefore intended to appeal to Texas citizens in his fight.
On November 14, Yates was temporarily enjoined from obstructing traffic and threatening state representatives by an injunction issued by Seventeenth District Court Judge Frank P. Culver, Jr. This followed a suit that was filed by Texas Assistant Attorney General Rice Tilley on behalf of the State Highway Commission. The commission called Yates's actions a "flagrant violation of the rights of the plaintiff and the traveling public." Tarrant County Deputy Sheriff Minor Moore was assigned to deliver the writ to Yates personally in Grapevine. Yates took the fences down the evening of November 7 but the "war" was still on.
The Grapevine Business Men's Club honored Commissioners Sandy Wall of Tarrant County and J. W. Slaughter of Dallas County on November 26 for their support of the new highways connecting those counties. Slaughter predicted a prosperous future for Grapevine due to its improved road network. David Box presented each man with an ebony walking stick as a token of the Club's appreciation. After six years of service, Sandy Wall retired at the end of December 1930.
When the new court session opened on January 1, 1931, Yates renewed his fight. The Commissioners' Court considered his petition for payment of $200 an acre for a right-of-way for Highway No. 121 through his Grapevine farm. The court was also wanting to increase the eighty-foot right-of-way to 100 feet, which would mean acquiring an additional strip of twenty feet through Yates's farm. County Judge Atkinson told Yates that county officials were willing to settle with him on an equitable basis, and that both the judge and Commissioner Bill Merrett would inspect the property within a few days.
Carl Yates's differences with Tarrant County actually began in 1928 when the county wanted to condemn eight acres of his land for a right-of-way for a price of $150 an acre for 3½ acres. He appealed to the county court which granted $125 an acre and damages of $2,000. Not long after, the county filed a second suit to obtain an additional ten feet, and after an appeal in spring 1930 a jury awarded him $150 on .68 of an acre. Yates's total judgement from both suits was $2,607.50. However, on his third attempt for "just compensation" (including the underpass for his livestock), the court refused to settle and proceeded with the condemnation.
It was not until February 5, 1931 that the commissioners voted to make a final settlement by paying Yates $500 in addition to the $2,607.50 already allowed. Yates was still not satisfied but the court was adamant. Yates's attorney Baylor L. Agerton argued that $1,000 in addition to the judgement would satisfy both Yates and the insurance company holding the lien on his farm. Judge Atkinson's tie-breaking vote meant that Yates would receive half that amount because the insurance company had not been a party in the case, so Carl Yates ended up receiving a grand total of $3,200 in compensation. Thus ended a long-standing legal fight that never went to trial. By mid-March, Yates had received his final judgement.
In the final blog, a new Highway 121 and a new airport in Grapevine gradually become an integral part of Tarrant County's economic growth.